My guests for this episode are Professor John Curley and Professor Leigh Ann Hallberg. They have both led the Wake Forest University Art Acquisitions Trip in which a group of six Wake Forest students purchase art from New York galleries to add to the Student Union Collection. Our conversation will touch on a number of topics related to this trip, including the history of the trip itself and how students prepare for it, the role of art in public spaces, what it means to build a collection, and how art can capture and reflect the cultural and political concerns of a particular time and place.
The exhibition from the most recent trip, ex postGlobal: New Acquisitions to the WFU Student Union Collection of Contemporary Art, is currently on view through October 15th at the Charlotte and Philip Hanes Art Gallery on the Wake Forest Reynolda campus. For more information, visit hanesgallery.wfu.edu.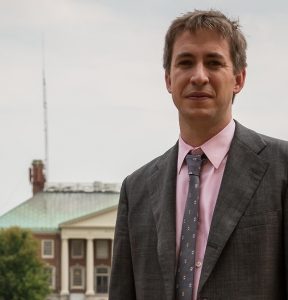 John Curley is Associate Professor of Modern and Contemporary Art in the Department of Art, where he teaches courses in twentieth and twenty-first century art, as well as the history of photography. His research explores the ways that postwar art, primarily in the United States and Europe, intervenes into larger realms of visuality, the mass media, and politics, especially during the period of the Cold War. These concerns are addressed in his award-winning first book: A Conspiracy of Images: Andy Warhol, Gerhard Richter, and the Art of the Cold War (Yale University Press, 2013). He has also published numerous essays in journals and international exhibition catalogs. His current book project Art and the Global Cold War: A History is under contract with Laurence King and should appear in 2018. His research has been supported by the Getty Research Institute, the Yale Center for British Art, the Henry Moore Institute, and the Terra Foundation, among others. At Wake Forest, he received a Teaching Innovation Award in 2012 and co-led the Art Buying Trips in 2009 and 2013.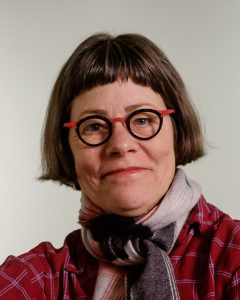 Leigh Ann Hallberg was born in New Haven, Connecticut in 1956. She received her BA, Magna Cum Laude, from Mount Union College in 1978 and her MFA from University of Colorado Boulder in 1989. Hallberg has exhibited at the Southeastern Center for Contemporary Art, Reynolda House Museum of American Art, Verge Art Fair NY, the Museo Archeologico Nazionale – Ferrara, Italy, Museo Civico Archeologico, Stellata, Italy, Plymouth Rock Gallery in Zurich, Switzerland and Unterhammer im Karistal, Germany among other venues. Hallberg is a Teaching Professor at Wake Forest University where she has been a Hoak Family Fellow and awarded numerous grants.