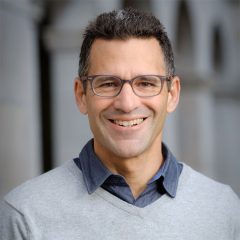 Dean Franco
HI Director, Professor of English, and Winifred W. Palmer Professor in Literature
305D Reynolda Hall
336.758.3073
francodj@wfu.edu

Dean Franco is Director of the WFU Humanities Institute and Professor of English. Franco joined Wake Forest 2001. He directs the Jewish Studies minor, has recently served as associate chair of the English department, and was the Scott Family Faculty Fellow from 2012-2014. He researches and publishes on race and literature. Franco along with Mary Foskett, Wake Forest Kahle Professor of Religious Studies; Sally Barbour, professor of Romance Languages; and David Phillips, associate professor of Interdisciplinary Humanities — laid the groundwork and secured the funding that made the Institute possible.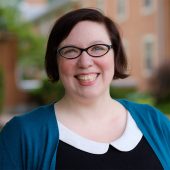 Aimee Mepham
Associate Director
305E Reynolda Hall
336.758.4028
mephamam@wfu.edu

Aimee joined the Humanities Institute in July 2013 as Program Coordinator. She was promoted to Assistant Director in July 2016 and to Associate Director in July 2021. She oversees the Humanities Institute's Story, Health, and Healing initiative, which provides programming in Narrative Medicine to the Wake Forest and Winston-Salem communities. Originally from Dearborn, Michigan, she is a graduate of Albion College and earned an MFA in Creative Writing from Washington University in St. Louis. She has taught creative writing workshops at Indiana University, Washington University in St. Louis, Salem College, and Wake Forest University. Her work has appeared in Hobart, Meridian, River Styx, among others, and has also been performed twice by Liars' League NYC, a live literary journal featuring professionally trained actors reading original short stories by writers.
Kimberly Thornton Scholl
Administrative Assistant
305 Reynolda Hall
336.758.3074
schollkt@wfu.edu

Kimberly Thornton Scholl became the Administrative Assistant for the Humanities Institute in September 2015. She serves as the primary contact person for the institute and performs a variety of duties for the institute including budget participation as well as organizing all administrative functions that support the Humanities Institute. After many years as a musical theatre performer, with roles ranging from classics to modern jazz opera, Kimberly transitioned into parenthood and into Montessori education and is an American Montessori Society-certified Early Childhood Educator. Before coming to HI, she was LGBTQ Center Project Assistant, charged with coordinating the inaugural Rising Voices: A Wake Forest LGBTQIA Alumni conference.