Parking
Friday, November 11th
Lot P8 North
733 N. Research Parkway
(Circled in orange on map below)
Please note that Lot P7 (circled in red on the map below) and Lot P2 (directly above WF Biotech Place on the map below) will be open at 5:00pm on Friday for Dr. Davarian Baldwin's keynote lecture in the Wake Forest Biotech Place Atrium.
Saturday, November 12th
Lot P8 North
733 N. Research Parkway
(Circled in orange on map below)
Lot P7
311 E Third Street
(Circled in red on map below)
Wake Downtown in circled in yellow, and Wake Forest Biotech Place is circled in purple
Please note that Visitor Parking Deck (Link Deck/IQ Visitor Parking Deck) in blue below is not free. The First hour is free, then the charge is $1 per half hour with $9 per day maximum.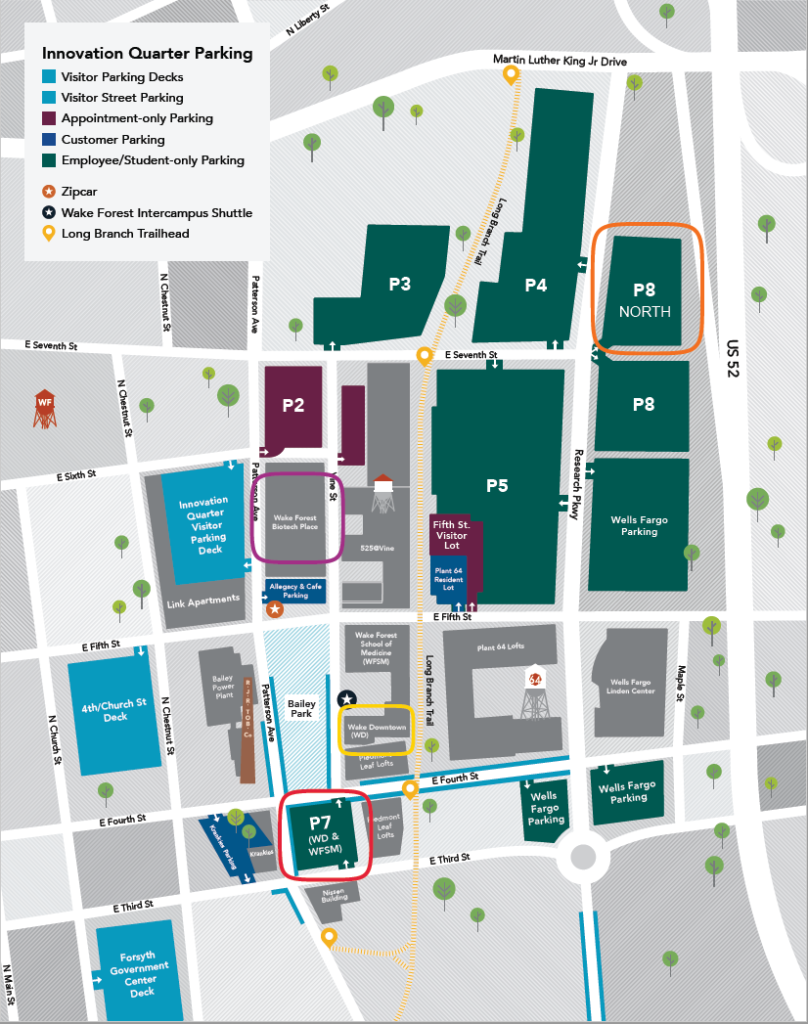 After parking, walk to the Wake Downtown building and use the back entrance.
Nearby Dining Options
Bailey Park Food Truck Schedule
Thursday Nov 10: Que Viva! Latin Street Grill 11:30 am-1:30pm
Friday Nov. 11: Lobster Dogs 11:30 am-1:30pm
Monday-Sunday 8am -3pm
211 E 3rd Street, Winston Salem, NC 27101
Friday-Saturday 11am-10pm
486 Patterson Ave, Winston Salem, NC 27101
Friday & Saturday: 11am-9pm
492 Patterson Ave, Winston Salem, NC 27101
Monday-Friday 11am-3pm & 5pm-10pm
Saturday 5pm-10pm
102 W 3rd St, Winston Salem, NC 27101
Friday-Saturday 11am-11pm
450 Patterson Ave Suite 120, Winston Salem, NC 27101
Monday-Friday 9am-2pm
One W 4th Street, Winston Salem, NC 27101
Accommodations
Downtown Winston-Salem