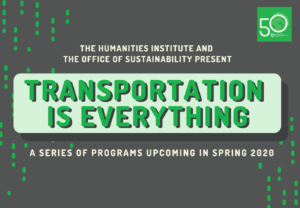 Transportation and Inequity in Winston Salem
Presentations by Russell M. Smith (Geography) and Craig Richardson (Economics), Winston-Salem State University
WFU Respondents: Megan Regan (Economics) and Elise Barrella (WFU Assistant Research Professor, Engineering)

Thursday, February 27th
5:00pm
Z. Smith Reynolds Library Auditorium
The event series, "Transportation is Everything," will examine how access to transportation and claims on public space determine the geographies of inequity in Winston Salem and beyond. According to recently published research, Forsyth County is among the very worst areas of the country for income immobility, and we will discuss how this happened and what to do about it. This kick-off event, free and open to the public, will include presentations by expert faculty from Winston-Salem State University, Dr. Russell M. Smith (Geography) and Dr. Craig Richardson (Economics) with responses from Wake Forest faculty Dr. Elise Barrella (WFU Assistant Research Professor, Engineering) and Dr. Megan Regan (Visiting Associate Professor, Economics). A Q&A session will follow, and the event concludes with a reception. As the first of a series of events, faculty are invited to commence consideration of how humanities disciplines and methods can engage with local, material problems in our community. For more information, contact Humanities Institute Director, Dr. Dean Franco.
Russell M. Smith is a Professor of Geography in the Department of History, Politics & Social Justice and the Faculty Lead for the Spatial Justice Studio at the Center for Design Innovation (SJS @ CDI). His research interests include a variety of topics related to spatial justice including: local government boundary change, urban form and the built environment and urban sustainability. Recently, Dr. Smith has been selected as a Fulbright Specialist for his expertise and experience in urban planning.
Craig Richardson is a BB&T Distinguished Professor of Economics in the Department of Accounting, Economics, and Finance at Winston-Salem State University.