Main Content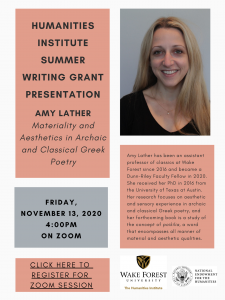 Every summer, the Humanities Institute funds several $4,000 competitive Summer Writing Grants for university faculty working in the humanities to complete or make significant progress on a manuscript for a monograph that is either under contract or in which a publisher has indicated written interest. Applications are open to all full-time faculty.
One of the grant's requirements for faculty recipients is to give a public presentation on their writing projects during the academic year following the summer they received the grant. Due to COVID 19 restrictions, these presentations will now be given on Zoom.
Amy Lather (Classical Languages) will discuss her work on her manuscript, Materiality and Aesthetics in Archaic and Classical Greek Poetry at 4:00pm on Friday, November 13th. Click here to register for the Zoom session.