Entanglements:
A Conference on the Intersections of Poetry, Science, and the Arts
May 13-16, 2019

An initiative of the Entanglements Network
Learn More about Entanglements
Distinguished Presenters of the 2019 Conference
---
Will Alexander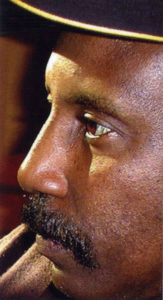 Will Alexander is a poet, novelist, playwright, aphorist, essayist, visual artist, and pianist. He has written over 30 books and chapbooks including Compression and Purity (City Lights Books) and The Sri Lankan Loxodrome (New Directions). He is the recipient of a Whiting Fellowship for Poetry, California Arts Council Fellowship, PEN Oakland Award, an American Book Award, and the Jackson Prize for Poetry. Alexander has taught at the Jack Kerouac School of Disembodied Poetics at Naropa University, the University of California, Hofstra University, and other institutions. Currently, he is the Poet-in-Residence at The Beyond Baroque Literary Foundation in Venice, California. In discussing a passage from Alexander's book, Towards the Primeval Lightning Field (1998), Clayton Eshleman has written, "The desire in such writing is for a paradise of language, for the creation, in language, of a reality that uses particles from the observational world to foment interlocking nonsequitor constellations that ignite new constellations as they burst." Harryette Mullen, writing in an issue of Callalloo, says, "The domain of poet Will Alexander's nervy curiosity ranges from the icy Himalayas, to African savannahs, from physics, astronomy, and music, to alchemy, philosophy, and painting. Orishas, angels and ghosts all sing to this poet, instructing him in their art of verbal flight. This is a poet whose lexicon, a 'glossary of vertigo,' might be culled from the complete holdings of a reconstituted Alexandrian library endowed for the next millennium." Alexander describes his work as continually probing a mixture of vocabularies that range from the astronomical to the mystic, from the mathematical to the historic, all the while suffused by indigenous psychology with the latter understood in the realm of the Occident to be the "other." Through this otherness, Alexander says, he weaves disparate energies so that they cohere at what he understands to be a higher plane of reference; his language takes an exploratory voltage that ranges far beyond any ideological concern and instead through an exploratory analysis of reality. It is a psyche, he describes, rooted most recently though the surrealisms of Philip Lamantia, Aimé Césaire, and Bob Kaufman. By exploring these seeds, Alexander says that he has been able to invoke a passionate language that interweaves both the subjective and objective planes into what he understands to be a non-categorical state where the magic of Language assembles via an acrobatic motif. Creation at this level seems most akin to trance, Alexander says, where creation can be spontaneously summoned from any starting point, a refractive non-linear praxis where any element enacts the blaze of motion; it could start in a statement from Georg Cantor or a fecund notion from a West African sangoma. Here, Alexander says, the imagination remains emptied of literal or contextual fact so that it is able to soar and maintain a cosmic purview.
More about Will Alexander
---
Dr. Madhur Anand
Dr. Madhur Anand's debut book of poems, A New Index for Predicting Catastrophes (McClelland & Stewart/Penguin Random House Canada, 2015), was published to international acclaim ("in every measure a triumph," Publisher's Weekly starred review) and was listed by Canadian Broadcasting Agency as one of 10 all-time "trailblazing" poetry collections to read for its blending of art and science. The book was a finalist for the Trillium Book Award for Poetry. Her more recent award-winning poetry and prose has appeared in a number of magazines including The Puritan, Brick magazine, Longreads.com, The New Quarterly, The Walrus, and This magazine. In 2015, CBC (Canadian Broadcasting Corporation) listed her as one of 12 "Writers to Watch." Dr. Anand has also published critical and scholarly work in ecopoetics and as a literary reviewer in The Literary Review of Canada and elsewhere. She edited the first anthology of contemporary ecological poetry, Regreen: New Canadian Ecological Poetry (Scrivener Press) and currently serves as poetry editor for Canadian Notes and Queries. Dr. Anand is a full Professor of Ecology and Sustainability at the University of Guelph, Canada. As a scientist, she has co-authored over 100 peer-reviewed scientific papers and the textbook, Climate Change Biology (CABI). Her internationally-funded and award-winning research program spans the fields of human-ecological modeling, complex systems, conservation ecology, and sustainability science, and she has contributed work to journals such as Science magazine, the Proceedings of the National Academy of Sciences, Global Change Biology, Conservation Biology, the Journal of Ecology, the Journal of Theoretical Biology, and Sustainability Science. She has held two prestigious Canada Research Chairs, was named Young Scientist of the World Economic Forum, and was awarded the Premier's Research Excellence Award as well as the Young Alumni Award of Merit of Western University. She served as Director of the Waterloo Institute for Complexity and Innovation from 2015-18 and serves as associate editor for the interdisciplinary journal, Ecosphere.
More about Dr. Madhur Anand
---
Rae Armantrout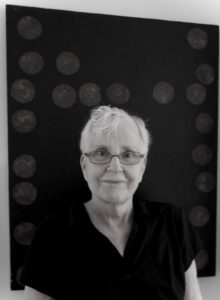 Rae Armantrout's most recent books, Wobble, Versed, Money Shot, Just Saying, Itself, Partly: New and Selected Poems, and Entanglements (a chapbook selection of poems in conversation with physics), are published by Wesleyan University Press. In 2010, Versed won the Pulitzer Prize for Poetry and The National Book Critics Circle Award. Armantrout was the recipient of a Guggenheim Fellowship and a Foundation for Contemporary Arts Award in 2007. Reviewing Partly in The London Review of Books, Stephanie Burt describes Armantrout's poems: "Replete with double and triple meanings, they describe chess moves and human institutions, computer code and dating rituals… Such multiple meanings, which occupy the foreground of her poems, lurk behind all human interactions, casting doubt on everything we intend." Her poems have appeared in many anthologies and journals including Poetry, Lana Turner, The Nation, The New Yorker, The London Review of Books, Bomb, The Paris Review, Postmodern American Poetry: a Norton Anthology, The New Anthology of American Poetry (Rutgers), The Open Door: 100 Poems, 100 Years of Poetry Magazine (Scribners), and several editions of the yearly anthology, The Best American Poetry (Scribners). Her books have been translated into Spanish, French, Italian, German, Polish, and Finnish editions. She is featured in a 2017 Library of Congress webcast The Life of a Poet, in conversation with Washington Post critic Ron Charles. Armantrout is recently retired from the University of California at San Diego (UCSD) where she was professor of poetry and poetics. While at UCSD, she co-taught a course called Poetry for Physicists with physicist Brian Keating. In addition to physics, Armantrout's recent work also engages with biology, ecology, and neuroscience. She currently lives in the Seattle area.
More about Rae Armantrout
---
Amy Catanzano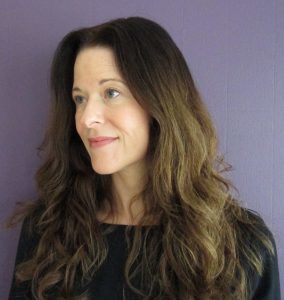 Amy Catanzano is a writer who moves within and between a range of disciplines, genres, and forms. In an integrated artistic practice and theory known as quantum poetics, she investigates the intersections of literature, science, and art to reinvent common notions of spacetime, language, and reality. Her research spans the history of the avant garde and its contemporary literary and artistic subcultures in parallel to science and the philosophy of language. She is the author of three books, two of which have received major national awards, in addition to significant essay projects and digital and post-digital poems. Starlight in Two Million: A Neo-Scientific Novella, a work of poetry and prose, received the Noemi Press Book Award in Fiction. Multiversal, published by Fordham University Press, received the PEN USA Literary Award in Poetry and was selected by Michael Palmer for the POL Prize at Fordham University Press. Catanzano's first book, iEpiphany, was published by Anne Waldman's independent press. A chapbook, World Lines: A Quantum Supercomputer Poem, which explores topological quantum supercomputing and quipu knots, has been featured in SciArt Magazine, Physics, and The Next Web. A digital poem on wave-particle duality, created using 3D Poetry Editor software, appeared in an exhibition, The Gravity of Words, at the Rotterdam Poetry International Festival and elsewhere. Her writing is published in journals such as Conjunctions, Denver Quarterly, New American Writing, Poems and Poetics, and Jacket2. She is an Associate Professor of English in Creative Writing and the Poet-in-Residence at Wake Forest University. She regularly visits scientific research centers, where she tours experiments, speaks with scientists, and gives poetry readings and talks. With arts and humanities grants from Wake Forest, she has conducted research at CERN in Switzerland and on the Dark Energy Survey at the Cerro Tololo Inter-American Observatory in the Chilean Andes. In 2018, she was the Poet-in-Residence at the Simons Center for Geometry and Physics at Stony Brook University. She has an MFA from the Iowa Writers' Workshop.
More about Amy Catanzano
---
Andrew Joron
Andrew Joron is the author of The Absolute Letter, a collection of poems published by Flood Editions (2017). Joron's previous poetry collections include Trance Archive: New and Selected Poems (City Lights, 2010), The Removes (Hard Press, 1999), Fathom (Black Square Editions, 2003), and The Sound Mirror (Flood Editions, 2008). The Cry at Zero, a selection of his prose poems and critical essays, was published by Counterpath Press in 2007. From the German, he has translated the Literary Essays of Marxist-Utopian philosopher Ernst Bloch (Stanford University Press, 1998) and The Perpetual Motion Machine by the proto-Dada fantasist Paul Scheerbart (Wakefield Press, 2011). Joron got his start as a writer in the science-fiction genre and soon moved toward the avant-garde, producing a form of surrealist science-fiction poetry. Professor Joseph Donahue of Duke University has written that "Had Wallace Stevens met Isaac Asimov in heaven [Joron's] poems would be the transcript of their talk." In The Nation magazine, critic Steve Evans compared Joron's later poetry, which combines scientific and philosophical ideas with the sonic properties of language, to the work of the Russian Futurist Velimir Khlebnikov. In a recent interview with Joshua Weiner in the Chicago Review, Joron spoke about his poetics, which seeks to synthesize neo-surrealism with the scientific study of complex systems. In this interview, Joron states that "Anything that's relevant now has to be relevant to catastrophe. Surrealism wants to make catastrophe speak. Not in order to reduce it to something 'meaningful.' Quite the opposite. It's possible—and surrealism has room for this—that catastrophe can only be truly understood mathematically, or topologically. Fifty years ago, the French mathematician René Thom formalized the way dynamical systems undergo sudden radical transformations, founding the discipline known as 'catastrophe theory.' Thom's topological diagrams illustrate what surrealist leader André Breton called 'convulsive beauty.' So if, as a poet, I identify with surrealism, it's through science, seeing the way the study of nonlinear dynamical systems—and language is such a system—has confirmed and augmented key surrealist insights into the revolutionary nature of reality." Joron is presently engaged in translating the scientific notebooks of the German Romantic poet Novalis into English. As a musician, Joron plays the theremin, a gesture-activated electronic instrument, in various experimental and free-jazz ensembles. Joron is an Assistant Professor of creative writing at San Francisco State University.
More about Andrew Joron
---
Eduardo Kac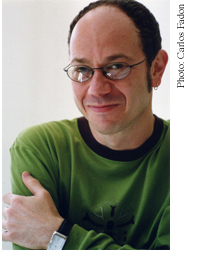 Eduardo Kac is internationally recognized for his telepresence and bio art. A pioneer of telecommunications art in the pre-Web '80s, Kac (pronounced "Katz") emerged in the early '90s with his radical works combining telerobotics and living organisms. His visionary integration of robotics, biology and networking explores the fluidity of subject positions in the post-digital world. His work deals with issues that range from the mythopoetics of online experience ("Uirapuru") to the cultural impact of biotechnology ("Genesis"), from the changing condition of memory in the digital age ("Time Capsule") to distributed collective agency ("Teleporting an Unknown State"), and from the problematic notion of the "exotic" ("Rara Avis") to the creation of life and evolution ("GFP Bunny"). At the dawn of the twenty-first century Kac opened a new direction for contemporary art with his "transgenic art"—first with a groundbreaking transgenic work entitled "Genesis" (1999), which included an "artist's gene" he invented, and then with his fluorescent rabbit called "Alba" (2000). From his first experiments online in 1985 to his current convergence of the digital and the biological, Kac has always investigated the philosophical and political dimensions of communication processes. Equally concerned with the aesthetic and the social aspects of verbal and non-verbal interaction, in his work Kac examines linguistic systems, dialogic exchanges, and interspecies communication. Kac's pieces, which often link virtual and physical spaces, propose alternative ways of understanding the role of communication phenomena in creating shared realities. Kac merges multiple media and biological processes to create hybrids from the conventional operations of existing communications systems. Kac first employed telerobotics in 1986 motivated by a desire to convert electronic space from a medium of representation to a medium for remote agency. He creates pieces in which actions carried out by Internet participants have direct physical manifestation in a remote gallery space. Often relying on the indefinite suspension of closure and the intervention of the participant, his work encourages dialogical interaction and confronts complex issues concerning identity, agency, responsibility, and the very possibility of communication. Kac's work has been exhibited internationally at venues such as Exit Art and Ronald Feldman Fine Arts, New York; Maison Européenne de la Photographie, Paris; Castello di Rivoli, Turin, Italy; Mori Art Museum, Tokyo; Reina Sofia Museum, Madrid; Zendai Museum of Modern Art, Shanghai; and Seoul Museum of Art, Korea. Kac's work has been showcased in biennials such as Yokohama Triennial, Japan; Biennial of the End of the World, Ushuaia, Argentina; Gwangju Biennale, Korea; Bienal de Sao Paulo, Brazil; International Triennial of New Media Art, National Art Museum of China, Beijing; and Bienal de Habana, Cuba. His work is part of the permanent collection of the Victoria & Albert Museum, London; the Museum of Modern Art in New York; Frac Occitanie—Regional collections of contemporary art, Les Abattoirs—Museum of Modern and Contemporary Art, Toulouse, France; the Museum of Modern Art of Valencia, Spain; the ZKM Museum, Karlsruhe, Germany; Art Center Nabi, Seoul; and the Museum of Contemporary Art of São Paulo, among others. Kac's work has been featured both in contemporary art publications (Flash Art, Artforum, ARTnews, Kunstforum, Tema Celeste, Artpress, NY Arts Magazine) and in the mass media (ABC, BBC, PBS, Le Monde, Boston Globe, Washington Post, Chicago Tribune, New York Times). Kac has received many awards, including the Golden Nica Award, the most prestigious award in the field of media arts and the highest prize awarded by Ars Electronica. He lectures and publishes worldwide. Kac is a member of the editorial board of the journal Leonardo, published by MIT Press. Kac's writings on art, which have appeared in several books and periodicals in many countries, have been collected in two volumes: Telepresence and Bio Art: Networking Humans, Rabbits and Robots (Ann Arbor: University of Michigan Press, 2005) and Luz & Letra (Rio de Janeiro: Contra Capa, 2004). Kac's poetry is collected in Hodibis Potax (Édition Action Poétique, Ivry-sur-Seine (France) and Kibla, Maribor (Slovenia), 2007). Books about Kac's work include Eduardo Kac: Move 36, Elena Giulia Rossi, editor (Paris: Filigranes Éditions, 2005), The Eighth Day: The Transgenic Art of Eduardo Kac, Sheilah Britton and Dan Collins, eds. (Tempe: ISA/ASU, New York: DAP, 2003) and Eduardo Kac (Valencia: IVAM, 2007).
More about Eduardo Kac
---
Dr. Mark C. Kruse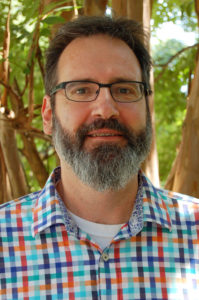 Dr. Mark C. Kruse is the Fuchsberg-Levine Family Professor of Physics at Duke University. His research is in the area of High-Energy Particle Physics with a primary focus on the analysis of data collected by the ATLAS detector at the Large Hadron Collider (LHC) at CERN in Switzerland. Professor Kruse hails from Auckland, New Zealand, and obtained his B.Sc. and M.Sc. in physics from the University of Auckland, before embarking on his Ph.D. in the U.S. He obtained his Ph.D. in 1996 from Purdue University on research conducted at the Fermi National Accelerator Laboratory (Fermilab) just outside Chicago. Joining the Duke Physics Department in 2000 as an Assistant Professor, Professor Kruse continued his research at Fermilab, before joining the ATLAS collaboration at the LHC. In 2012 Professor Kruse was part of the team of physicists that discovered the Higgs boson, providing a key understanding to the fundamental nature of how mass is generated in the universe. Professor Kruse's group at Duke is now pursuing novel techniques for answering further fundamental questions of the universe, in particular, those concerning the nature of so-called Dark Matter. Professor Kruse has led several physics groups at Fermilab and the LHC and was inducted into the Bass Society of Fellows at Duke University for "excellence in teaching and research" in 2012. He has given several public talks on particle physics, and his passion for connecting broader audiences to our fundamental understanding of the universe has led to interdisciplinary projects with the humanities. To this end, he has co-advised two Ph.D. students from the Literature Program at Duke who have explored how methods and concepts in particle physics are connected with other perceptions in society. Together with Professor N. Katherine Hayles at Duke University, Professor Kruse developed and taught a popular course in Literature, "Science Fiction, Science Fact," for which a mix of humanities and science students explored details of the physics behind several science fiction novums.
More about Mark C. Kruse
---
Dr. Ming-Qian Ma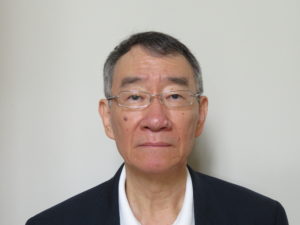 Dr. Ming-Qian Ma is an Associate Professor of English at the State University of New York at Buffalo. Educated and trained at Stanford University, Ma concentrates in his research on modernist and postmodernist poetry and poetics in relation to philosophy, science, and arts, with a particular interest in the exploratory, the speculative, and the experimental trajectories in these fields as mutually interrelated dynamics. Author of the book, Poetry as Re-Reading: American Avant-Garde Poetry and Poetics of Counter-Method (Northwestern University Press), Ma focuses more recently on the present conditions of poetry and poetry criticism on the one hand and, on the other hand, on trans-disciplinary issues such as time, space, distance (nearness), vision and visuality (visibility and invisibility), consciousness, poetic text and texture, and reading as measurement. He finds his conceptual stimulation and critical methodology both in the material phenomenology articulated by Gilles Deleuze, Michel Serres, and Jean-Luc Marion and in the intellectual pursuits of the unknown in theoretical physics. His ongoing research projects include, among others, the post-Luhmannian rethinking of formal innovation in terms of systems theory and its concept of "drawing distinctions," "Fermat's Principle of the Least Time" as manifested in invented language, and the exploration of reading as an act of measurement or observation that engages the quantum dimensions of a text beyond the tangibility of the page. Selected publications include "'Negative Seeing': Robert Smithson, Earth Art, and the Eco-Phenomenology of 'Mirror Displacements'," "Percolated Nearness: Immanence of Life and a Material Phenomenology of Time," "Becoming Phenomenology: Style, Poetic Texture, and the Pragmatic Turn in Gilles Deleuze and Michel Serres," and "The Sound Shape of the Visual: Toward a Phenomenology of an Interface."
More about Dr. Ming-Qian Ma
---
Ed Roberson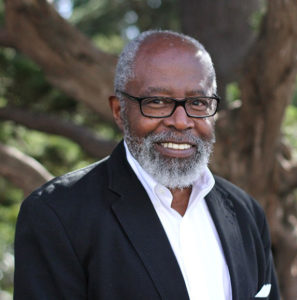 Born and raised in Pittsburgh, Ed Roberson studied painting in his youth and was educated at the University of Pittsburgh. His extensive travels and background in science inform his work, which is also influenced by spirituals and the blues, and by visual art, such as the mixed-media collages of Romare Bearden. Poet and critic Michael Palmer has called Roberson "one of the most deeply innovative and critically acute voices of our time." Roberson is the author of numerous books of poetry, including To See the Earth Before the End of the World (2010), which was a runner up for the Los Angeles Times Poetry Award; The New Wing of the Labyrinth (2009); City Eclogue (2006); Atmosphere Conditions (1999), which was chosen by Nathaniel Mackey for the National Poetry Series and was a finalist for the Academy of American Poets' Lenore Marshall Award; Just In: Word of Navigational Change: New and Selected Work (1998); and Voices Cast Out to Talk Us In (1995), which won the Iowa Poetry Prize. His earlier collections include Etai-Eken (1975) and When Thy King is a Boy (1970). Words and phrases in Roberson's experimental poetry actively resist parsing, using instead what Mackey has called "double- jointed syntax" to explore and bend themes of race, history, and culture. "I'm not creating a new language. I'm just trying to un-White-Out the one we've got," said Roberson in a 2006 interview with Chicago Postmodern Poetry. Roberson's honors include the Ruth Lilly Poetry Prize in 2016, the Lila Wallace Writers' Award, the Poetry Society of America's Shelley Award, and the 2016 PEN/Voelcker Award for Poetry. His work has been included in Best American Poetry. Roberson lives in Chicago, where he has taught at the University of Chicago, Columbia College, and Northwestern University.
More about Ed Roberson
---
Dr. Gustavo A. Schwartz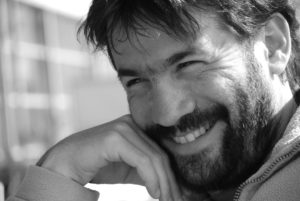 Gustavo Ariel Schwartz is a physicist and writer of essays and fictions that cross borders and explore the relationships among art, science, literature, and humanities. He combines his scientific research at the Material Physics Center in San Sebastián, Spain, with his role as the founder and director of the Mestizajes Program at the Donostia International Physics Center (DIPC), whose purpose is to explore the relations among science, literature, and art and their reciprocal influences and the emergence of common ideas. Within the framework of this program, he has organized three International Conferences on Literature and Science in 2011, 2014, and 2017 and launched the Writers in Residence Program in 2012. After receiving his PhD in Physics from the University of Buenos Aires in Argentina in 2001, he spent two years with a postdoctoral contract at the Chalmers University of Technology in Goteborg, Sweden, and then moved to San Sebastián to do research at the DIPC. In 2005, he won his first literary prize with the short story, "The Leak," which takes place in the diffuse frontier between rationality and irrationality. Since 2008, he has been a tenured scientist at the CSIC (National Spanish Research Council). He is working in the development of a new experimental approach to measuring the dielectric response at the nano-scale. He also collaborates with the Goodyear Innovation Center at Luxembourg in the characterization and development of new polymer composites. He has published more than fifty scientific articles and the short-story collection, The Other Side. He has co-authored, with Luisa Etxenike, the theatre play, The Interview, which premiered in San Sebastián in 2013. In 2016, he coordinated the project, Connected Reality, a collection of eight audiovisual capsules about intuition and reason. Recently, he co-edited the collective work, #Nodos, in which nearly ninety scientists, writers, artists and scholars from all over the world explore the possibilities of transdisciplinary knowledge. The Spanish edition of #Nodos came out from Next Door Publishers in Spain, and the English edition is forthcoming from Intellect Press in the UK. Currently, he is running Creativium, a transdisciplinary project that analyses and portrays scientific creativity in artistic-literary key. He maintains the blog Arte, Literatura y Ciencia.
More about Dr. Gustavo A. Schwartz
---
Anne Waldman
Anne Waldman is a world-renowned poet, performer, professor, editor, cultural activist, and co-founder with Allen Ginsberg of the Jack Kerouac School of Disembodied Poetics in Boulder, Colorado, at Naropa University, the first Buddhist inspired university in the western hemisphere. She has been an active member of the "Outrider" experimental poetry community, a culture she has helped create and nurture for over four decades. Her poetry is recognized in the lineage of Whitman and Ginsberg and in the Beat, New York School, and Black Mountain trajectories of the New American Poetry. In New York City, she helped found The Poetry Project in 1966 and directed it for 10 years. She is the author of over fifty books of poetry, including the mini-classic Fast Speaking Woman, published by Lawrence Ferlinghetti's City Lights Books in San Francisco; a collection of essays entitled Vow to Poetry; and several selected poems editions including Helping the Dreamer, Kill or Cure, and In the Room of Never Grieve. She has concentrated on the long poem as a cultural intervention with such projects as Marriage: A Sentence, Structure of The World Compared to a Bubble, Manatee/Humanity, a book-length rhizomic meditation on evolution and endangered species, and Gossamurmur, a meditation on Archive. Her monumental anti-war feminist epic The Iovis Trilogy: Colors in the Mechanism of Concealment, a 25-year project, won the PEN Center Award for Poetry. Waldman's major publishers are Penguin Poets and Coffee House Press. Her most recent book is Trickster Feminism from Penguin Poets. According to poet and scholar Lyn Hejinian, Waldman's Voice's Daughter of a Heart Yet To Be Born (2016) "brings Waldman's work into the more intimate paradoxical folds of poetic (and prophetic) knowledge." Other recent books include Jaguar Harmonics (Post-Apollo Press, 2014) and Cross Worlds: Transcultural Poetics (Coffee House, 2014), an anthology co-edited with Laura Wright. Waldman is the recipient of the Shelley Memorial Award, a Guggenheim Fellowship (2013-14), and a former Chancellor of The Academy of American Poets. She has been a fellow at the Rockefeller Foundation's Bellagio Center, a fellow at the Civitella Ranieri Foundation in Umbria, and has held the Emily Harvey residency in Venice. She is a frequent collaborator with poets, dancers, musicians and visual artists and performs and lectures at festivals and conferences around the world. She has worked at the Institute of American Indian Arts in Santa Fe and Women's Christian College in Tokyo and presented her work in Jaipur, Bratislava, Wuhan, Beijing, Berlin, Nicaragua, Prague, Kerala, Mumbai, Calcutta, Marrakech, and Madrid. Her work has been translated into numerous languages. She is the founder with Ambrose Bye and Devin Brahja Waldman the band collective Fast Speaking Music and the Fast Speaking Music productions, which have issued more than 25 albums. She has received the American Book Award from the Before Columbus Foundation for long-life achievement. She curated the Voz Alta poetry performance festival at Casa del Lago in Mexico City, which included participants Raul Zurita of Chile, Guillermo Gomez Pena of Mexico/USA, and Thurston Moore of the US and UK. In 2007 she received the China Houtian Prize. She is currently a Professor of The Practice at Brown University's Arts Initiative Program and Distinguished Professor of Poetry and Artistic Director of the Summer Writing Program at Naropa University, where she curates writing festivals with innovative themes such as Anthropocene, Capitalocene, and Symbiosis. Waldman works with the anti-nuclear Guardianship Project in Boulder and was arrested in the 1970s with Allen Ginsberg and activist Daniel Ellsberg at Rocky Flats, which led to a commitment to the accountability for nuclear waste to future generations, a vow that according to Waldman is "a nearly quarter of a million-year project." She remains a highly original "open field investigator" of consciousness, committed to the possibilities of radical shifts of language and states of mind to create new modal structures and montages of attention. Publishers Weekly has referred to Waldman as "a counter-cultural giant."
More about Anne Waldman