The Wake Forest University Humanities Institute's Story, Health, & Healing Initiative Presents
ROUNDING WITH… K. PATRICK OBER
Tuesday, October 10, 2017
5:30-7:30 p.m.
BOOKMARKS
634 W. 4th Street #110, Winston-Salem, NC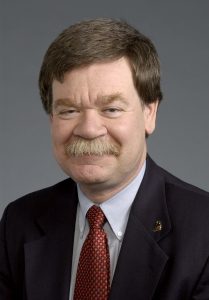 K. Patrick Ober, MD, FACP, is Professor of Internal Medicine (Endocrinology and Metabolism) at the Wake Forest School of Medicine in Winston-Salem, North Carolina. Dr. Ober is interested in the relationship between the humanities and the practice of medicine, and he has written about the dehumanizing properties of the electronic medical record. He is an internationally recognized Mark Twain scholar, author of the book Mark Twain and Medicine: "Any Mummery Will Cure" and numerous other writings and presentations about Twain and medicine.
Dr. Ober has been recognized as one of the "Best Doctors in America" on repeated occasions. He was nominated for the 2007 Humanism in Medicine Award of the Association of American Medical Colleges and is the recipient of the 2016 Alpha Omega Alpha Robert J. Glaser Distinguished Teacher Award from the Association of American Medical Colleges.
Rounding With… is a series of mini-symposia, free and open to the public, in which an invited guest working in the field of narrative medicine gives a public reading or lecture and facilitates an interprofessional education (IPE) workshop.
This series is sponsored by the Wake Forest University Humanities Institute, made possible in part by a major grant from the National Endowment for the Humanities, and with support from an Engaged Humanities Grant received by the university from the Andrew W. Mellon Foundation.
Questions? Call 336.758.4028 for more information.